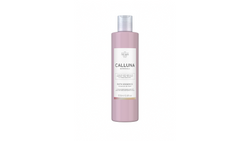 The Perfumer
Scottish Fine Soaps Calluna Botanicals Bath Essence 300ml
Enticing and captivating, this botanical delight has a precious heart of softly spiced rose, cocooned within fresh zesty bergamot, warm woods and hint of sweetness found in vanilla pods, creating a well-rounded oriental delight.
Natural plant-based and indulgent wash with Dead Sea salts, lactic acid, lavender essential oil and chamomile extract. To help enhance your skin€™s ability to retain moisture while also helping to relieve physical stress and fatigue. The essential lavender oil is a physically and emotionally balancing and calming oil. Lactic acid
helps improve skin tone while chamomile extract is calming and helps to soothe redness in skin.