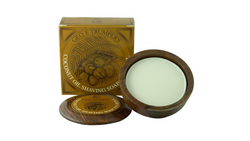 The Perfumer
Geo F Trumper Coconut Oil Hard Shaving Soap
Our famous glycerine based Coconut Hard Shaving Soap. With such first-rate nourishing properties, shaving with coconut oil will prevent dryness to the skin.
Both sensitive and normal skin will luxuriate in its rich lather.
Our shaving soaps are finely refined soap, which is both smooth, long lasting and of the highest quality, with a good lather. These are superior in quality to triple milled soaps.