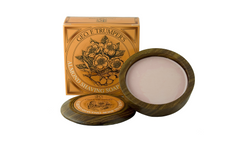 The Perfumer
Geo F Trumper Almond Hard Shaving Soap
Our famous glycerine based Almond hard shaving soap.
With a distinctive sweet, nutty fragrance.
Suitable for normal to dry skin
Our shaving soaps are finely refined soap, which is both smooth, long lasting and of the highest quality, with a good lather. These are superior in quality to triple milled soaps.